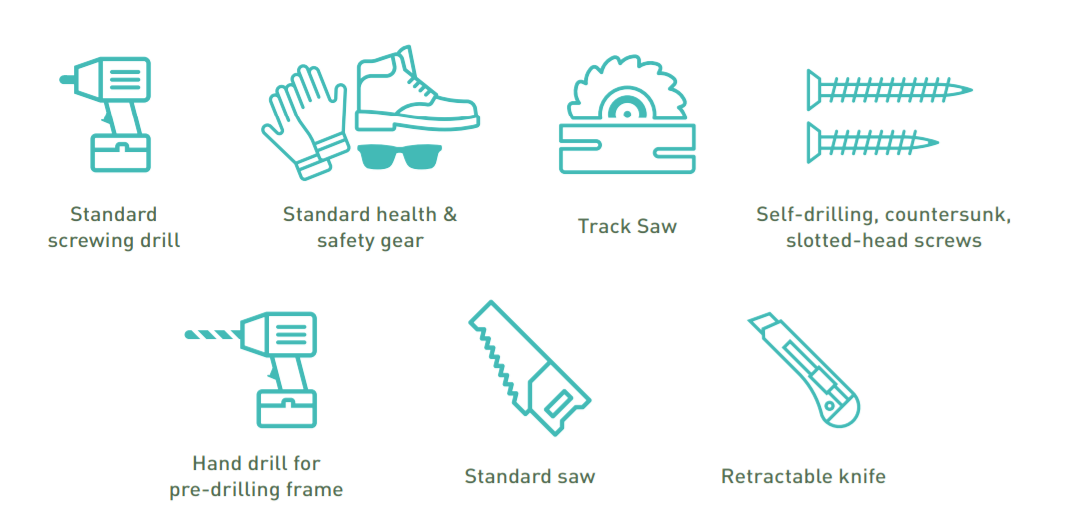 Q1: What are my options for finishing MgO Panels?
A1: Finish MgO with most products such as paint, stucco, synthetic stucco, wallpaper, plaster, stone, tile, brick and much more. The strong adhesion properties of MgO also make it a perfect product for Structural Insulated Panels (SIPS), Exterior Insulated Finish Systems (EIFS) and interior wall systems using fabrics.
To finish MgO Panels after installation, begin with a primer. This is required because MgO panels are alkaline in nature. We recommend using a primer that is suitable for concrete or masonry. There are a few popular brands of paint which react molecularly with the cement in MgO forming a UV highly resistant coating that will last for years. Acrylic stucco topcoats or polymer modified cement base coats can also be used and individually applied to the board. Test the topcoats and paints prior to completing the entire project. To properly test the bonding capability of the topcoat, brush on or spray a small area of the MgO with paint, let the board dry and cure. Then make an X with a sharp razor knife, apply masking tape over the cut and press firmly and rip it off like a band-aid. If the paint stays on the board, this indicates the paint and board have a successful bond.
Q2: What do I use to fill in joints between MgOs?
A2: When installing panels, leave a 3 to 6mm wide gap between the panels. Control the depth of the gap using polyethylene backer rods to the point where the width is greater than the joint depth. Use non shrinking paintable caulk applied with a caulk gun, then smooth off excess caulk using a little water and your finger or a caulk smoothing tool. Add a coat of primer when the caulk is cured. After priming, apply a thin coat of spackle or gypsum mud to remove any joint telegraphing. The outside corners of the boards can be glued, sanded or routed smooth and flush and filled with caulk, plaster or grout. Use glue on the inside corners of the boards or butt joint with a bead of painter's caulk.
The outside corners of the joints can be butted together and then sanded smooth. For a bull nose finish, corners can be routed or mitered. Adding a corner bead of caulk is optional. MgO bonds well to itself, metal, wood and other materials. Apply adhesive to the corner board joints using using ChemLink M1 or a moisture cure urethane adhesive. Review the caulking chart for other tested products.
Q3: How do we stop the MgO joints from micro-cracking?
A3: A few things can cause micro cracking in MgO nesium oxide boards such as structure movement caused by force from wind or earthquake. Or the structure may expand caused by thermo graphic or hydrometric expansion. The frame used under the boards may change as wood will shrink when dried and metal expands when heated. MgO Boards shrink during curing and drying to ambient humidity and will have some movement due to thermal or moisture changes. Micro cracking becomes a negligible issue because most interiors maintain relatively even temperatures.
To address and or prevent micro cracking follow a few precautionary steps. First, before installation, allow the boards to acclimatize in the structure where they will be used. Leave a small space between boards and apply a non-shrinking caulking followed by a primer coat of paint. Apply spackle or plaster to hide any imperfections. Finish by using a paint designed to prevent moisture absorption. Isolate joints from the structure by splicing with strips of scrap MgO Board or metal clips to keep the joints between studs.
Q4: Can you use the same fasteners, mud, and tape that are used with regular drywall?
A4: To fasten MgO panels, use corrosion resistant fasteners. Add extra support by applying a barrier coat of epoxy, ceramic or a similar adhesive. Drywall screws that have a stainless steel or phosphoric coating also work well with MgO panels. For easiest installation, choose screws with self-counter boring heads. Alternatively, use gun nails when applying to both wood and light gauge steel framing with the appropriate pins or nails.
To finish MgO joints, use any top-quality joint compound. Check with the manufacturer of the product to ensure it is compatible with MgO. Use finely ground hydraulic cement fillers such as RapidSet One Pass to establish industrial strength joints. Additionally, urethanes bond well to MgO panels. If using tape and mud is a preference, choose a self-adhesive fiberglass tape and a mud or plaster suitable for moist environments. Most lightweight pre-mixed mud does not like moisture and MgO Panels can have moisture, but they will eventually equalize with the structure.
MgO Panels bond well to itself, metal, expanded polystyrene, wood, and laminates using ChemLink M1 or another moisture cured urethane adhesive.